Two DVDs from Ralph Nader to You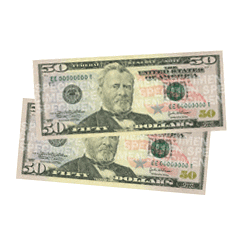 Are you a crazy Nader voter?
If yes, prove it.
Michael Moore yesterday called you "crazy" for supporting and voting for Ralph Nader for President.
Michael Moore says we're all crazy.
For supporting a life long crusader for justice who stands with us against corporate control of our society?
Last year, in his movie Sicko, Michael Moore made a passionate argument for a single-payer, Medicare for all health care system.
As he points out, the majority of doctors, nurses and the American people support single payer.
Michael Moore supports single payer.
Ralph Nader supports single payer.
But Obama opposes single payer.
And Michael Moore supports Obama?
And he calls Nader's voters crazy?
No, what's crazy is supporting someone opposed to what you believe in.
(What about the third party voters who supported abolition of slavery and women's suffrage? Were they crazy too?)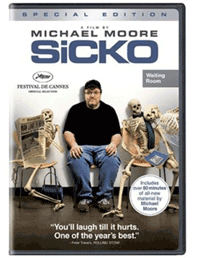 In honor of Michael Moore calling all of us crazy, here's what we are going to do.
For a donation of $100 or more now to our campaign (must be received by 11:59 p.m. Wednesday August 20), we will send you a copy of Michael's classic DVD — Sicko.
The DVD includes a whole bunch of great extras including:
SICKO Goes to Washington
This Country Beats France
Uniquely American
What if you worked for G.E. in France?
Sister Mary Fidel
Who Would Jesus Deny?
More with Mike & Tony Benn
A Different Kind of Hollywood Premiere
'Alone Without You' Music Video Performed By The Nightwatchman and Interview Gallery
You'll be getting a copy of the best argument yet for single payer.
And you'll be supporting the most viable single payer campaign in the nation.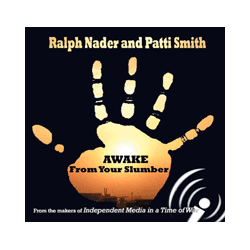 Plus, we'll send you a copy of the classic anti-war DVD — Awake from Your Slumber — featuring Ralph Nader and Patti Smith — autographed by Ralph Nader.
The DVD features a sweeping 2005 anti-war speech by Nader plus an opening poem by Patti Smith titled Shock and Awe about the bombing of Baghdad.
It ends with Patti's rousing anthem — People Have the Power.
In addition the 28-minute video, the DVD includes three additional songs performed by Patti Smith and an interview of Ralph Nader by Amy Goodman on corporate power.
So, that's two powerful DVDs — Awake from Your Slumber autographed by Ralph Nader and Sicko — for a $100 or more contribution to our campaign now.
Today, let's all of us crazy ones band together.
And push the Nader/Gonzalez campaign into the debates.
And into a possible three-way race.
For Medicare for all.
And against the corporate Democrats and their ongoing spinelessness that will lose another election —- a la Dukakis, Mondale, Kerry, and Gore.
We need 480 of you to donate $100 or more now.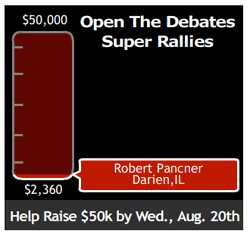 To reach our goal of $50,000 by August 20.
And we'll send to you — crazy Nader voter — a copy of Sicko. (Even if you already have it or have seen it, get another copy and pass it on to a friend. Tell them you are a crazy Nader voter for single payer.)
Plus a copy of Awake from Your Slumber.
Join the legion of crazy Nader voters.
Together, we are making a difference.
Onward to November
The Nader Team
---