Don't Waste Your Vote On a Blowout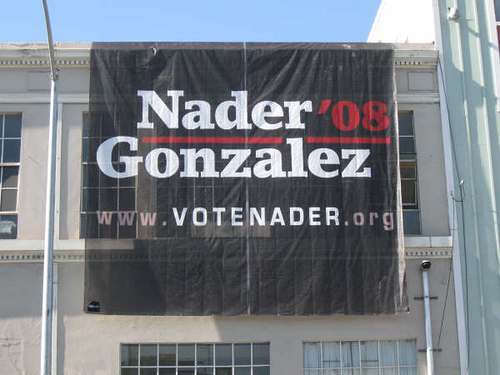 It's going to be a blowout.
All the Sunday talk shows predict it.
Even George Will said that Obama will win with over 370 electoral votes.
The bottom line: Obama and McCain have given you the green light to vote your conscience — vote Nader/Gonzalez.
Today's final CNN pre-election poll puts Ralph Nader at three percent nationwide.
Let's bump it up to five percent.
That projects out to 6.5 million Americans saying yes to the Nader/Gonazlez shift the power agenda.
Here's how we get there:
E-mail your friends, neighbors and relatives.
Tell them — don't waste your vote on a blowout.
Vote your conscience.
Vote Nader/Gonzalez.
Second, join with thousands of other Nader supporters tomorrow calling voters around the country urging them to vote Nader/Gonzalez.
To help make phone calls on Monday for Nader/Gonzalez, call Rob Socket at 202.471.5833 or e-mail him at rob@votenader.org.
And third, don't forget, the Third Party Vice Presidential debate — featuring Matt Gonzalez and sponsored by Free and Equal — will be held at the University of Las Vegas, tonight at 6 p.m. PST, 9 p.m. EST.
We'll be streaming it live right here at votenader.org/live.

Onward to Election Day
The Nader Team
PS: Remember, if you donate $100 or more to Nader/Gonzalez now, we will ship to you the hard cover 40th Anniversary edition of Unsafe at Any Speed — Ralph's historic expose of the American automobile industry — autographed by the man himself. It was the book that launched the American consumer movement and saved hundreds of thousands of lives. This autographed edition is bound to become a rare collector's item after the election. So, get it now. Only a limited number left. (This book offer ends November 4, 2008 at 11:59 p.m.)
---