Assets of America: Ashoka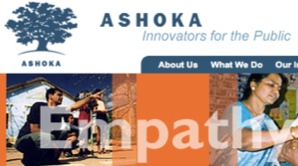 A social entrepreneur is an individual who has a bold new idea and isn't necessarily in a rush to make millions with it, but instead uses his or her ingenuity to change long established societal patterns of living — these are the people who make up Ashoka. Ashoka is a non-profit organization that provides support for innovative community leaders and connects them in a global fellowship.
The word "Ashoka" is Sanskrit for "the active absence of sorrow," and Ashoka fellows are people who actively work to establish the absence of a wide variety of societal sorrows by equalizing opportunities for individuals and entire communities experiencing social blockades.
Since 1980 Ashoka has been working on six major service fields:

Learning & Education -- Ashoka fellows around the world are working in many different countries fundamentally changing the way young people are learning and growing up.


The Environment -- Ashoka's human-environment interface is a force with over 300 dedicated individual fellows.


Health -- Ashoka is building a Global Health Initiative to address health issues in developing nations.


Human Rights -- Ashoka is working on the Law for All Initiative to ensure that historically marginalized populations have equal access to legal recourse.


Economic Development -- Ashoka fellows are focusing on practical and innovative strategies for the co-existence of social justice and economic development.


Civic Participation -- Ashoka continually works to inspire and enable individuals to take civic-minded initiative and mobilize for social change.


---