Breaking Point: We Will Decide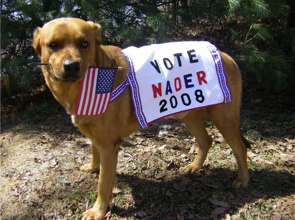 Ralph and Matt,

I just wanted to drop you a line from here in Florida. I am proud to have voted for you today. It is the first time I have voted since 1992…and I know that you represent me and millions of others who have been seeking truth and liberty. I voted in Lee County Florida and the turn-out at my precinct was in my estimation a record. I waited in line for aproximately 1 1/2 hours (which was well worth it) and as luck would have it there was a guy in from of who had an Obama button on. He asked me who I was voting for and I said, "I am voting for a third party." He said, "You can tell me, you're voting Nader right?" I thought OK I'll play his game.

He went on to ask me the obvious question. (I saw it coming—I was licking my chops!!) He asked me why I would vote for a candidate who can't win. I said because "today I am voting my conscience and not the Evil of two lessers." I told him I would not vote for either corporate candidate-Obama or McCain. By the time I was through explaining to him about the erosion of the Constitution, the MSM Blackout, Wall Street Bail Out, etc, I had him thinking at the very least.

Mr. Nader and Mr. Gonzalez, it has been a gratifying experience for me to have watched you two unite millions of Americans behind truth, justice, liberty and the foundation of the Constitution. "We The People"…WE Will Decide!!!

Sincerely,
—Patrick Brian Lee

Photo above by a supporter.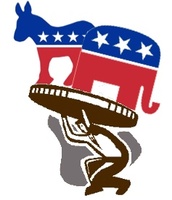 If you haven't reached your breaking point, visit www.breakingpoint08.com.
Send me your Breaking Point story to share at loralynne@votenader.org, so the growing numbers of independent voters can join our voices, and together, we can change the system.
Loralynne Krobetzky
Communications Director
Nader for President 2008
---